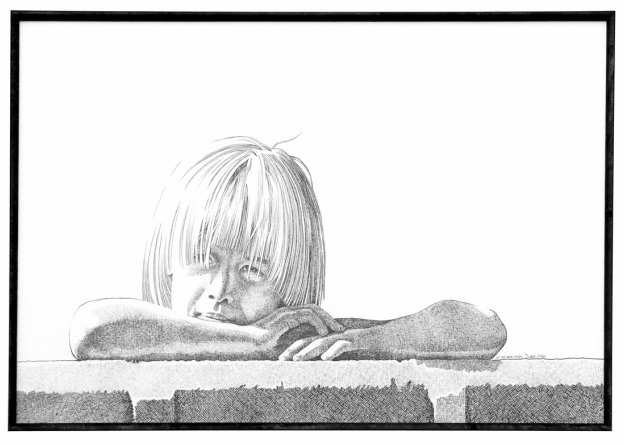 I've been meaning to share this story of my 9/11 day for a while, but it's been too hard to do so until now...

September 11th 2001

"Have a great day today." I said to Olivia as I bent down to give her a goodbye hug. "See you later honey." I kissed Anne goodbye and watched as they went down the stairs to the uptown subway. Today is Olivia's second day of kindergarten. She is attending St. Hilda's and St. Hughes, a private school on 114th street between Broadway and West End Avenue. It is an Episcopalian school. When asked why we selected the school, I joke that I want them to teach Olivia a little fear and guilt. Pulling my latest book out of my backpack I flipped it open and read as I walked toward the downtown trains. It was a beautiful day outside. A sunny cool fall day. Exiting the subway at 28th Street I continued past the donut and coffee shop, considering briefly the idea of grabbing another cup of coffee. Sometimes I get one of the glazed crullers that are so thick with glaze you always end up feeling slightly nauseous when you finish it. Thinking of my diet, I shake it off and cross 7th Avenue to get into my building. Turning off the alarm I flip on the reception lights and look around at all the empty desks. It has been a tough time shutting down this office and downsizing the company. Staff continues to stay in touch by email in the hopes that I will either revive the company or get a position that will enable me to reassemble the team. Plugging in my laptop I boot it up and walk over to the water cooler for a glass of water. A couple hours later I call Kris, a client I am doing some work with and ask if he's gotten the latest logo files from me.

"Tom, what are you still doing at your office?" He asked in a stressed out voice.

"I'm working on your stuff and packing up the office. Why?" I asked.

"Jesus Tom, go home. Go home right now. Terrorists hijacked a bunch of airliners and two of them slammed into the World Trade Towers knocking them down. Another plane crashed into the Pentagon. Go home to your family."

"Yeah right." I laughed. It was just too outrageous to believe.

"I swear to God. I'm not kidding. Go look out your fucking window; you can't see the World Trade Towers 'cause they're not there anymore. If you need us to go up to the school to get Olivia, we will. Just let us know. You should hang up now and go home."

Kris' son Brendan went to the same school as our daughter. I hung up the phone and in a daze of disbelief I went into Peter's old office, opened the window and leaned out to look down 7th Avenue toward the World Trade Center. All I could see was a bunch of smoke. The street below me was one huge mass of people walking uptown, away from the World Trade Center. Looking further north I saw a lake of people milling around Penn Station. That's when the truth of the situation penetrated my hope that this was all a bad joke. I ran back to my office and tried to call Anne to see if she had gotten Olivia. No answer on the cell phone or at home. I left a message repeating what Kris had told me. I grabbed my computer, and small bubble jet printer and put them into my backpack. I locked the office, turned on the alarm and got into the elevator. The doorman of the building looked somber and asked if I was leaving for the day. I said yes, locked the 11th floor elevator and went outside. My heart was pounding and I was starting to feel a bit freaked out. I headed downtown against the tide of people coming uptown. I figured I would get on the Subway and go home before heading up to Olivia's school.

"Is the Subway running?" I asked a man who was in a long line waiting to use the phone.

"Everything is shut down. No trains at Penn Station. No Subways. No nothing." He looked pretty frazzled. His tie was loose and his hair was awry.

"Fuck." I said in frustration. I spun around knocking my backpack into someone. "Sorry" I said automatically. I started walking uptown. All right, I thought to myself, I only have thirty-one blocks to get to the apartment. Then I'll grab my roller blades and blast another fifty-five blocks to Olivia's school.

The sidewalks were too crowded to walk on. Every pay phone had enormous lines of people. I was impressed with how calm everyone was. No rioting or crazy shit, just a bunch of people walking quietly along. It was surreal. Ten blocks uptown I cut over to 8th Avenue figuring it would be less crowded then 7th Avenue. I stopped in front of a store and stood with a bunch of people watching a television set. They were showing tape of the second plane slamming into the World Trade Tower. I couldn't believe my eyes. Then they showed the Tower collapsing. Past the television, I noticed that the store had scooters for sale. I pushed my way into the store and bought one. The salesman had the swarthy Palestinian Arab kind of look. I usually don't think about this kind of thing, but the man looked seriously concerned and his store was packed with upset people. Unfolding the scooter and locking everything in place I put my foot on it and started kicking my way uptown along 8th Avenue. There were very few cars on the road. I could hear a ton of fire trucks and ambulances going past. As I went past Port Authority on 42nd Street, I had to get off the scooter and join the massive mob of people milling about in front of the bus terminal. I finally pushed my way through and switching legs, I started scooting uptown again. The backpack was heavy on my back. I was grateful I had worn sneakers that morning. Lately I had been wearing sandals to work. I said a silent thank you to God for my sneakers and kicked onward.

I hope they catch the bastards that did this, I thought as I made my way uptown. I finally made it to our building. I tried to go in through the 58th Street entrance but it was locked. There was a sign on it saying "Due to the emergency, we have locked this entrance, please go around to the 59th Street entrance." Cursing, I ran around the building and as I went through the lobby I asked, "Have you seen my wife or Olivia come through?" Both doormen shook their heads no. I went into an elevator with three women. My shirt was soaked with sweat and I was still out of breadth. No one said anything to each other as we went up. When the elevator opened onto my floor I ran down the hallway and opened the door. Anne was in the kitchen on the phone with her parents reassuring them that we were all right.

"Where's Olivia?" I asked, wiping the sweat off my face with the T-Shirt I was wearing.

"She's still at school."

"We have to go get her." I said a little wild-eyed.

"Tom, she's safe at school. Why don't you cool down a bit and I'll make us some peanut butter and jelly sandwiches to take with us and we'll go get her." Anne said in her 'calm down' mother voice. It worked. I took a deep breadth and said, "OK".

Walking into the bedroom I saw that Anne was watching CNN. I sat in a chair and watched the news commentators describe what had happened so far.

"This is the first time in history that every single plane is on the ground in the U.S. at the same time." Getting up, I went over to my laptop and got online. On Yahoo I clicked a story about the disaster and read an article by David Crary, an Associated Press Writer:

… At about 8:45 a.m., a hijacked airliner crashed into the north tower of the trade center, the 25-year-old, glass-and-steel complex that was once the world's tallest.

Clyde Ebanks, an insurance company vice president, was at a meeting on the 103rd floor of the south tower when his boss said, ``Look at that!'' He turned to see a plane slam into the other tower.

``I just heard the building rock,'' said Peter Dicerbo, a bank employee on the 47th floor. ``It knocked me on the floor. It sounded like a big roar, then the building started swaying. That's what really scared me.''

The enormity of the disaster was just sinking in when 18 minutes later, the south tower also was hit by a plane.

``All this stuff started falling and all this smoke was coming through. People were screaming, falling, and jumping out of the windows,'' said Jennifer Brickhouse, 34, from Union, N.J.

The chaos was just beginning. Workers stumbled down scores of flights, their clothing torn and their lungs filled with smoke and dust. John Axisa said he ran outside and watched people jump out of the first building; then there was a second explosion, and he felt the heat on the back of his neck. Donald Burns, 34, was being evacuated from the 82nd floor when he saw four people in the stairwell. ``I tried to help them but they didn't want anyone to touch them. The fire had melted their skin. Their clothes were tattered,'' he said. Worse was to come. At 9:50, one tower collapsed, sending debris and dust cascading to the ground. At 10:30, the other tower crumbled.

Glass doors shattered, police and firefighters ushered people into subway stations and buildings. The air was black, from the pavement to the sky. The dust and ash were inches deep along the streets. Bridges and tunnels were closed to all but pedestrians. Subways were shut down for much of the day; many commuter trains were not running.

Meanwhile, at about 9:30 a.m., an airliner hit the Pentagon - the five-sided headquarters of the American military.

``There was screaming and pandemonium,'' said Terry Yonkers, an Air Force civilian employee at work inside the building.

The military boosted security across the country to the highest levels, sending Navy ships to New York and Washington to assist with air defense and medical needs.

A half-hour after the Pentagon attack, a United Airlines Flight 93, a Boeing 757 jetliner en route from Newark, N.J., to San Francisco, crashed about 80 miles southeast of Pittsburgh.

Airline officials said the other three planes that crashed were American Airlines Flight 11, a Boeing 767 from Boston to Los Angeles, apparently the first to hit the trade center; United Airlines Flight 175, also a Boeing 767 from Boston to Los Angeles, which an eyewitness said was the second to hit the skyscrapers; and American Airlines Flight 77, a Boeing 757 en route from Washington-Dulles to Los Angeles that hit the Pentagon.

``We're at war,'' said Gaillard Pinckney, an employee at the Housing and Urban Development office in Columbia, S.C. ``We just don't know with who.''

Giuliani said it was believed the aftereffects of the plane crashes eventually brought the buildings down, not planted explosive devices.

Hyman Brown, a University of Colorado civil engineering professor and the construction manager for the World Trade Center, speculated that flames fueled by thousands of gallons of aviation fuel melted steel supports.

``This building would have stood had a plane or a force caused by a plane smashed into it,'' he said. ``But steel melts, and 24,000 gallons of aviation fluid melted the steel. Nothing is designed or will be designed to withstand that fire.''

At mid-afternoon, Giuliani said 1,500 ``walking wounded'' had been shipped to Liberty State Park in New Jersey by ferry and tugboat, and 750 others were taken to New York City hospitals, among them 150 in critical condition.

Well into the night, a steady stream of boats continued to arrive in the park. ``Every 10 minutes another boat with 100 to 150 people on it pulls up,'' said Mayor Glenn Cunningham. ``I have a feeling this is going to go on for several days.''

Felix Novelli, who lives in Southampton, N.Y., was in Nashville with his wife for a World War II reunion. He was trying to fly home to New York when the attacks occurred ``I feel like going to war again. No mercy,'' he said. ``This is Dec. 7th happening all over again. We have to come together like '41, go after them.''

The attack on Pearl Harbor claimed the lives of 2,390 Americans, most of them servicemen.

Anne finished making the sandwiches and I filled two water bottles and put them in the mesh water bottle side pockets in my back pack. Anne was lacing on her sneakers.

"I'll roller blade and carry Olivia's scooter in my back pack and you run." I said, silently thanking God that Anne is in excellent condition.

"OK, lets go." She said, pulling the door open.

Outside massive amounts of people were walking on the roads. Anne and I cut over to Central Park and started heading uptown on the road that runs inside the Park. As we got to the top of a hill it started dawning on me just how far we had to go to get to Olivia. Looking at my watch I saw that it was a little after 12 PM.

"Anne, use Olivia's scooter to go down hills, it'll be faster."

"OK" She said stepping uncertainly onto the scooter. "This is harder on the leg that isn't moving." She observed.

"Lock your forward leg at the knee to take pressure off your leg. Place your other foot behind you on the hill. If you step down on the back wheel guard, it acts as a brake."

"OK." Anne gamely kicked along while I roller bladed along side her. "I'm sorry if I'm slowing you down but I think we should all stick together."

"Don't worry about it. I agree. Let's just keep going."

We cut across 72nd Street a couple avenues to Broadway and headed uptown on Broadway for the rest of the journey. At one point I got impatient and I could see that Anne's legs were uncomfortable on the scooter, so I got behind her and started pushing as I bladed along.

"Don't go over any bumps because they'll catch the underside of the scooter and we'll go flying." I warned her.

"OK" Anne said as she swerved and zigzagged a bit.

We turned left onto 114th Street, which is on a major hill. I gave Anne a last push and swung around her and headed down the hill on my faster Blades. I zoomed into the lobby and pulled out my green parent ID card. The schools principal was standing in the lobby with her assistant greeting the parents.

Checking a clipboard she said; "Olivia's class should be just getting out of lunch. Half of the class will be in art class on the 7th floor."

We got into the elevator and went up to the third floor. Olivia's classroom was empty. Wiping the sweat off my face with soaked T-Shirt I rolled into Olivia's classroom and looked around. Each child had colored a teddy bear which had their names written on it. I saw that they letter of the week was the letter C.

"We shouldn't be in here." Anne said, with that nervous voice that you use when you are breaking the rules. Somehow being inside a school still brings that out in you.

"OK" I was feeling kind of weird being in the empty classroom anyway. The thought had occurred to me that some of Olivia's classmates might have lost a Daddy or Mommy today.

"Mommy!" Olivia shouted with a big bright smile on her face as she came around the corner from the elevator with her class. "Daddy!" she said as she gave me a hug and a kiss.

"Hi." Said Mrs. Brightworth, Olivia's teacher. "Olivia, you need to get in line and wash your hands with everyone else."

"OK" Olivia said walking into her classroom and obediently going to the sink to wash her hands.

"Have you said anything to the children about what has happened?" Anne asked.

"No. None of us has seen a television. We are leaving it up to the parents to decide-if and when- they want to speak with their child about it."

Olivia came back to us wiping her hands on her shirt. She was wearing a green T-Shirt with green shorts that have little flowers on them. She had thick-soled sneakers on her feet.

"Olivia, we're here to take you home with us." I explained.

"OK" No questions, just total trust.

As we walked down the hall to the elevator we passed a huge bulletin board with cut out hot air balloons that had been colored by each child. They each had their names on them.

"Which one do you like the most?" Olivia asked looking up at me. I immediately pointed to hers and smiled at her.

"Which one did you think silly?" Anne said ruffling Olivia's hair. With a smile, Olivia stepped onto the elevator and we went down to the lobby. When the doors opened and she saw the principal, Ms. Batten, she ran over and gave her a big hug.

"We just love Olivia" She said. "And she's quite the artist."

"I wonder where she got that from." Anne said looking at me with a smile.

"See-ya." Said Olivia over he shoulder as we left the school.

"Why are there all these people on the street walking around?" Olivia asked.

"Bad witches crashed a couple of really big airplanes into the World Trade Towers today honey. A lot of people got killed and all of the trains are shut down so everyone has to walk home." I explained. Olivia and I have been using the expression 'good witch' and 'bad witch' to describe people ever since we saw the Wizard of Oz. The scene when Glenda, the good witch, asks Dorothy; 'Are you a good witch or a bad witch?'

"Oh. That's sad." She said. "That was my most favorite building in the whole world." I laughed- almost everything she'd experienced up to that point was her "most favorite".

"Olivia, you've only been there one time a few weeks ago with your cousin Drew. Remember?" I asked.

"I know, but it had my favorite pizza restaurant on top of it." She said in a voice that made it clear that her decision was final. We had eaten in the café inside the World Trade Tower outlook on the 110th floor.

We lucked out and caught an empty Gypsy cab heading down Broadway and agreed to $20 for the normally $8 journey. Olivia's window would not roll down and every time the car was stopped in traffic she moaned that she was really hot. By 62nd Street the cab driver turned and told us we had to get out. The traffic was too bad and he believed that they were stopping all traffic from heading south of 59th Street. We agreed on $18 as the revised fare, paid it and got out of the cab. We joined the mob of people walking on the sidewalk. Olivia scooted along on her scooter and Anne and I stayed on either side of her. I felt a lot calmer now that we were all together. Walking into our building past the somber doormen we got into the elevators and went up to our apartment. We had five messages on the answering machine from family checking to see if we were all right. We all sat on our bed and watched the news reports. Olivia watched in silence as they showed the Towers collapsing and people running and screaming down the streets.

"I hate this." She said and left to go to her room.

I followed her into her room and gave her a hug. We flipped on the Cartoon Network and sat on her floor and watched an Ed, Edd and Eddy episode. I rubbed her back absentmindedly and thanked God that we were all alive. My mind kept creating horror shows of Olivia and her cousin being on top of the World Trade Tower when the planes hit. With a chill I thought about the trip I was supposed to take tomorrow. I was supposed to fly out of Newark to go to a meeting in Chicago. Newark airport is one of the airports where a plane was hijacked and crashed outside of Pittsburgh. Later in the day I got antsy and decided to go give blood. I pulled on my roller blades and gave Olivia and Anne a kiss. I skated over to 58th Street and 9th Avenue. A couple of volunteers wearing stickers on their shirts stopped me.

"We are blocking off the street. No more blood donors can be handled out of this hospital. We need the street for triage and a temporary mortuary." They explained.

"OK, hang in there." I said and skated back to the apartment.

After taking a shower and changing my clothes I made a stiff drink and sat down in front of CNN. For dinner we reheated some chili I had made earlier in the week. When it was time for bed, I pushed the two overstuffed chairs together in our bedroom and made Olivia a bed so she could sleep with us without kicking us all night. We gave each other a goodnight kiss and hug and went to sleep.

In the morning we discovered that Olivia's school was canceled. It was a beautiful day. Not a cloud in the sky. The sound of sirens was non-stop. The temperature was crisp and Central Park beckoned. I put my roller blades on. Grabbed my backpack and helped Olivia get her bike out the door. We each gave Anne a kiss goodbye. She wanted to stay in and watch the news.

At the park, the sound of the children playing drowned out the sirens. I was struck by the amazing ability of children to live in the moment. Reaching into my backpack I pulled out my camera. Olivia was playing in the sand on the other side of a low concrete wall. The sun was shining down on her and she seemed content.

"Hey Olivia!" I shouted ducking down behind the wall. Olivia popped up, resting her head on her arms. With a look beyond her years she tolerated the picture taking and went back to building her sand castle. This is the photograph I used for the pencil portrait I created later that week.